How Samaritan's Purse Transformed an Empty Field into a Hospital
In the wake of a disaster, the speed of a response often means the difference between life and death. The Samaritan's Purse Disaster Assistance Response Team maintains a constant state of readiness so that when disasters strike, we can immediately mobilize to bring life-saving care and supplies to those in need.
For more than 10 years, Samaritan's Purse has envisioned expanding its medical response capacity to include a mobile emergency field hospital, and for the past three years, we have actively been working to make this dream a reality.
On April 16, 2016, a 7.8-magnitude earthquake struck the northern coast of Ecuador and collapsed a main referral hospital in Chone. Samaritan's Purse identified a gap in the medical infrastructure that our field hospital could help fill to meet the medical needs of people in need of trauma care. Because we had spent years preparing for a medical response like this, we were able to respond quickly and get the field hospital, medical staff, and relief teams on the ground in Ecuador four days after the earthquake.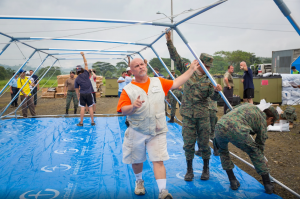 Upon arrival in Chone, the set-up crew began to unpack the unit and build the hospital. While the team had done mock set-ups of the field hospital for training purposes, this was the first time it was assembled with patients waiting for care. Under the direction of Kenny Adcock, the readiness manager of the hospital, everyone pitched in to help—doctors, nurses, and the Ecuadorian army all worked diligently alongside the set-up team, understanding the dire situation at hand.
In just under 11 hours, an empty field was transformed into a fully functioning hospital, complete with an emergency room, operating room, in-patient beds, and a pharmacy. Doctors and nurses rearranged travel plans, canceled vacations, and left home with less than 24 hours' notice in order to make this response a reality. They did this knowing that the hours would be long, the conditions would be challenging, and the sleep would be minimal. Despite this, Judith Hoover, a nurse at the field hospital, said, "It's the most rewarding thing you can do."
During the past two months, medical staff treated 1,285 patients and performed 287 surgeries. They treated severe fractures, appendicitis, pressure wounds, third-degree burns, and other serious medical conditions.
Did you deploy to Ecuador with Samaritan's Purse?
Sharing your experience will help prepare future disaster response team members! Post your memories, lessons learned, photos, and video in the feed below.